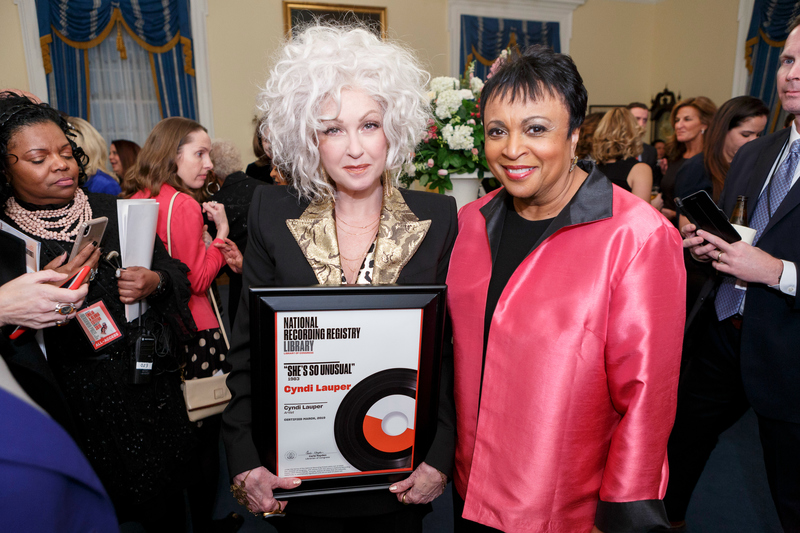 She's So Unusual Inducted Into National Recording Registry of the Library of Congress
New National Recording Registry Class is "Superfly"
Cyndi Lauper, Jay-Z, Sylvester, Robert Kennedy Recordings Among Inductees
The classic radio western "Gunsmoke"; Ritchie Valens' groundbreaking 1958 sensation "La Bamba"; Sam & Dave's 1967 hit single "Soul Man"; the revolutionary 1968 Broadway musical "Hair"; and Neil Diamond's 1969 "Sweet Caroline," which became a popular sports anthem, are the newest recordingsinducted into the National Recording Registry of the Library of Congress. Librarian of Congress Carla Hayden today named these and 20 other recordings as aural treasures worthy of preservation because of their cultural, historic and aesthetic importance to the nation's recorded sound heritage.
"The National Recording Registry honors the music that enriches our souls, the voices that tell our stories and the sounds that mirror our lives" said Hayden. "The influence of recorded sound over its nearly 160-year history has been profound and technology has increased its reach and significance exponentially. The Library of Congress and its many collaborators are working to preserve these sounds and moments in time, which reflect our past, present and future."
Under the terms of the National Recording Preservation Act of 2000, the Librarian, with advice from the Library's National Recording Preservation Board (NRPB), is tasked with annually selecting 25 titles that are "culturally, historically, or aesthetically significant," and are at least 10 years old. More information on the National Recording Registry can be found at www.loc.gov/programs/national-recordingpreservation-board/about-this-program/.
The new recordings to the National Recording Registry bring the total number of titles on the registry to 525, a small part of the Library's vast recorded-sound collection of nearly 3 million items.
The sound recordings recently named to the registry showcase works across multiple genres, including blues, children's recordings, classical, comedy, country, radio, jazz, pop, hip-hop, rhythm and blues, Latin and Broadway. The spoken-word and musical recordings span a century from 1901 to 2001. The oldest recorded sounds on the 2018 registry are 20 cylinders of the earliest-known recordings of Yiddish songs (1901-1905) and the most contemporary recording is hip-hop mogul Jay-Z's 2001 album "The Blueprint," which solidified his reputation as one of the greatest rappers in music.
Among the selections are the Victor Military Band's 1914 rendition of "Memphis Blues"; Cab Calloway's signature song "Minnie the Moocher," released in 1931; Benjamin Britten's 1953 album "War Requiem"; Lefty Frizzell's crossover 1959 single "Long Black Veil"; folk singer Ola Belle Reed's self-titled album, released in 1973; the popular educational children's program "Schoolhouse Rock!"; Sylvester's 1978 disco single, "You Make Me Feel (Mighty Real)"; and Earth, Wind & Fire's 1978 song "September."
Cyndi Lauper's celebrated 1983 debut solo album "She's So Unusual" also made the list. "I'm really honored that 'She's So Unusual' is being recognized as being one of the nation's audio treasures worthy of lifetime preservation," said Lauper. "I was really determined to make a cohesive collection of songs and really determined to make sure all types of women were represented in the 'Girls…' video. I had this very strong vision of how I wanted to put the music together. If this is going to be my thing, and if this is the only time I ever get to open my mouth and sing, I want it to be great."
Several recordings on the list reflect the diverse sounds of the nation's audio heritage. Chicano culture was recognized in the selection of Ritchie Valens' timeless, groundbreaking song, "La Bamba." Los Lobos released its version of the song in 1987. "As a young boy growing up in East Los Angeles, I was curious and ultimately impressed by a rock song sung in Spanish — that song was 'La Bamba' by Ritchie Valens," said Louie Pérez, one of the founding members and guitarist for Los Lobos. "It continues to be a hallmark in American music and an influence on all Latino music that followed."
The Detroit riot of 1967 was the impetus for Sam & Dave's iconic single "Soul Man." "When I recorded 'Soul Man,' I had no idea it would become an anthem and such a significant part of American culture," said Moore, who was the other half of the duo with Dave Prater. "I've learned that when I first sang 'Soul Man,' it was the first time that those words had ever been used together in the English language, to which I can only say 'wow'!"
Other culturally significant recordings include Nina Simone's 1964 single "Mississippi Goddam" — a response to the murders of civil rights activist Medgar Evers in Mississippi and the bombing death of four little girls at a church in Alabama — and the Melville Jacobs collection of recordings (1929-1939) of Native Americans from the northwestern region of the country that documented 23 different separate tribal languages.
Also on the list is Curtis Mayfield's 1972 soundtrack for "Superfly," the film by the same name that was a huge commercial success. "I would compare Curtis Mayfield's work on 'Superfly' to the work of the great post-Impressionist painters," said musician and record executive Don Was. "Mayfield took textures that were then popular in rhythm and blues — like wah-wah guitars, congas, flutes, orchestras — and blended them into something altogether new. … I think it's wonderful that 50 years after its inception, the music of 'Superfly' still resonates with listeners and is being honored by the National Recording Registry."
The legendary saxophonist Dexter Gordon's "GO" is the newest jazz recording to join the registry. "When Dexter Gordon recorded the album 'GO' on Blue Note Records in 1962, he had no idea that it would become the classic jazz album it became," said Gordon's wife Maxine. "He loved the album because of the musicians Sonny Clark, Butch Warren, and Billy Higgins who, as he said, 'played as one sound.' I know Dexter would be honored and delighted with this honor."
In addition to the western radio drama "Gunsmoke," which aired on CBS for nine years and was subsequently turned into a television series, spoken-word recordings on the list also include Stan Freberg's 1961 comedy album and monologues by the noted dramatist Ruth Draper from 1954-1956. Robert F. Kennedy's extemporaneous speech immediately following Martin Luther King Jr.'s assassination in 1968 — two months before Kennedy was also killed by an assassin's bullet — was also named to the registry.
Pablo Casals' 1939 reimagining of the Bach cello suites was selected in the classical category. Raphaël Merlin, cellist of the acclaimed Ébène Quartet, said: "There is a prophetic aspect to Pablo Casals's work - he revealed his recording of the six Bach Cello Suites, and they instantly became our bible, and continue to offer revelations to cellists even to this day. At the same time, he also made a practical case for these works as an ideal way for a musician to exercise his or her mind, cultivate healthy playing technique, study counterpoint, and more. However you look at them, his recording of the suites still sounds like the opening of a new era."
Some registry titles have already been preserved by the copyright holders, the artists or other archives. In cases where a selected title has not already been preserved, the Library of Congress Packard Campus for Audio Visual Conservation works to ensure that the sound recording will be preserved by some entity and available for future generations. This can be either through the Library's recorded-sound preservation program or through collaborative ventures with other archives, recording studios and independent producers.
The Packard Campus is a state-of-the art facility where the nation's library acquires, preserves and provides access to the world's largest and most comprehensive collection of films, television programs, radio broadcasts and sound recordings (www.loc.gov/avconservation/). It is home to more than 7 million collection items.
The Library of Congress is the world's largest library, offering access to the creative record of the United States — and extensive materials from around the world — both on-site and online. It is the main research arm of the U.S. Congress and the home of the U.S. Copyright Office. Explore collections, reference services and other programs and plan a visit at loc.gov; access the official site for U.S. federal legislative information at congress.gov; and register creative works of authorship at copyright.gov.