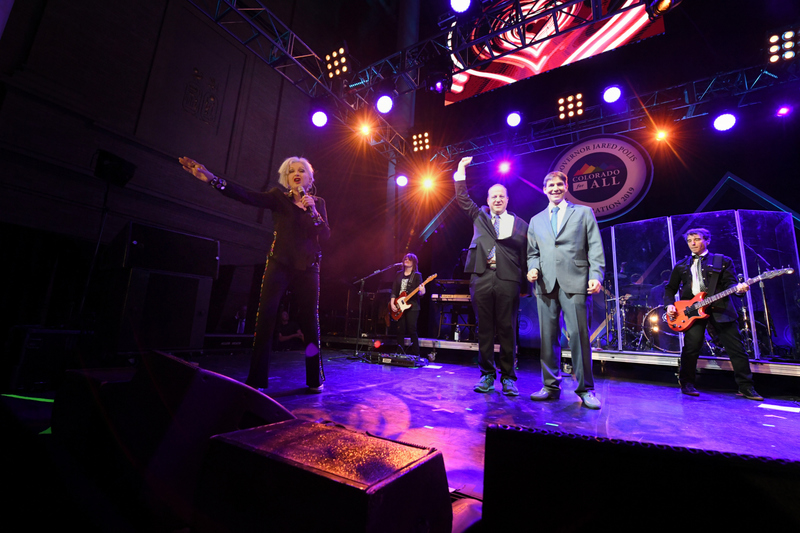 Cyndi Performs at Gov. Polis' Blue Sneaker Inauguration Ball
Thousands of revelers bopped among dinosaur bones and dioramas into the night Tuesday — some in blue sneakers — to celebrate the inauguration of newly minted Gov. Jared Polis, who promised to "do the people's business joyously" as he endeavors to make Colorado a state "where anyone can thrive."
Well-wishers mingled and swayed inside a packed Denver Museum of Nature and Science at the Polis inaugural committee's Blue Sneaker Ball — a nod to the governor's favored comfortable footwear. They sipped on locally produced libations and enjoyed guacamole and hummus as '80s pop icon Cyndi Lauper belted out one familiar tune after another.
"We love you, Cyndi!" a party-goer shouted as the blond songstress took the stage alongside Polis and his partner, Marlon Reis, Colorado's inaugural first gentleman, and Polis' predecessor, fellow Democrat John Hickenlooper and his wife, Robin.
"I love you too, Colorado!" Lauper responded to the surging crowd. Casting her heavily lashed gaze at the incoming and outgoing governors and their spouses, she smiled. "Congratulations."
Read more in The Gazette