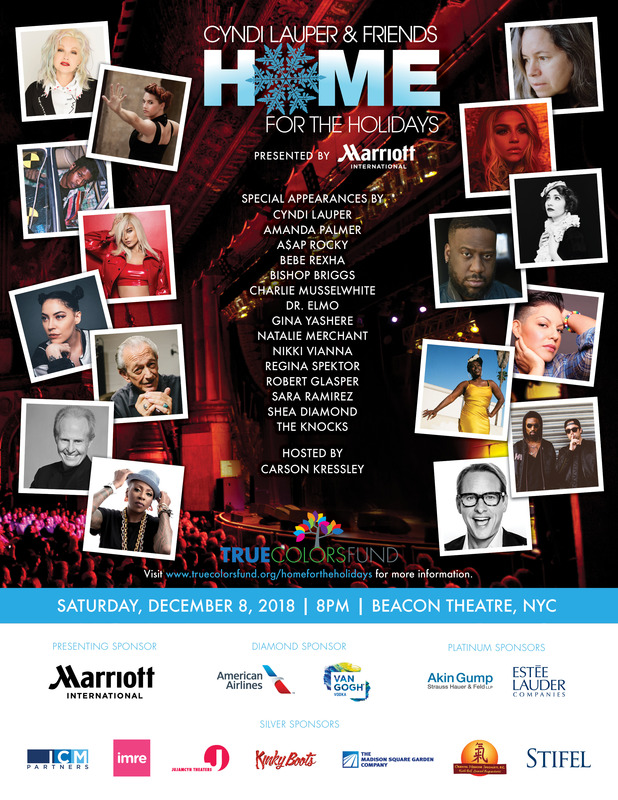 CYNDI LAUPER ANNOUNCES 8TH ANNUAL 'HOME FOR THE HOLIDAYS' BENEFIT CONCERT AT BEACON THEATRE ON DECEMBER 8
CYNDI LAUPER ANNOUNCES 8TH ANNUAL 'HOME FOR THE HOLIDAYS' BENEFIT CONCERT AT BEACON THEATRE ON DECEMBER 8

STAR-STUDDED CONCERT, PRESENTED BY MARRIOTT INTERNATIONAL, CELEBRATES 10TH ANNIVERSARY OF THE TRUE COLORS FUND

100% OF NET PROCEEDS GO TO TRUE COLORS FUND'S PROGRAMS WORKING
TO END HOMELESSNESS AMONG LGBTQ YOUTH

Cyndi Lauper – the Grammy, Emmy and Tony-winning icon and advocate – has announced the lineup for her 8th annual Cyndi Lauper & Friends: Home for the Holidays benefit concert, presented by Marriott International. The star-studded event will take place December 8th at New York City's Beacon Theatre. This year's concert will also celebrate the tenth anniversary of the True Colors Fund, which was co-founded by Cyndi Lauper.
Taking the stage with Cyndi and her band this year will be a host of guests including Amanda Palmer, A$AP Rocky, Bebe Rexha, Bishop Briggs, Charlie Musselwhite, Dr. Elmo, Gina Yashere, Natalie Merchant, Regina Spektor, Robert Glasper, Sara Ramirez, Shea Diamond, and The Knocks. The evening will be hosted by Carson Kressley.
"LGBTQ youth are strong, brave, and resilient," said Lauper, the organization's co-founder. "At Home for the Holidays, we'll raise our voices in solidarity with LGBTQ young people – and raise money to support the True Colors Fund's work to end homelessness among LGBTQ youth. I'm so grateful to the artists for donating their time and talent to bring attention to this important cause."
100% of the net proceeds from the concert will support the True Colors Fund's programs to prevent and end homelessness among lesbian, gay, bisexual, transgender, queer, and questioning (LGBTQ) youth. In America, up to 40% of youth experiencing homelessness are LGBTQ and, according to a recent study from Chapin Hall at the University of Chicago, LGBTQ young people are 120% more likely to experience homelessness than non-LGBTQ youth.
Home For The Holidays sells out each year and has become a NYC holiday tradition that gathers together a host of diverse talents for an important cause. The show has previously featured P!NK, 50 Cent, Adam Lambert, Lou Reed, Josh Groban, Jackson Browne, Laverne Cox, Sarah McLachlan, Jason Mraz, Boy George, St. Vincent, Alan Cumming, Wanda Sykes, Laura Jane Grace and many more.
Tickets will be available to the general public at Ticketmaster.com starting on Friday, October 19 at 12:00pm ET. All sales are through Live Nation.
Home for the Holidays is proud to have the support of: Presenting Sponsor Marriott International; Diamond Sponsors American Airlines, Van Gogh Vodka; Platinum Sponsors Akin Gump Strauss Hauer & Feld LLP, The Estée Lauder Companies; Silver Sponsors Imre, Jujamcyn Theaters, Dr. Keith Bell - Licensed Acupuncturist, Kinky Boots, The Madison Square Garden Company, Stifel; Bronze Sponsors 20th Century Fox, Artist Group International, Donenfeld Management, ICM Partners, MAC Cosmetics, Reveal 42, and So What Management.
Some highlights of the True Colors Fund's recent impact are:
● Releasing the first-ever State Index on Youth Homelessness in partnership with the National Law Center on Homelessness and Poverty. The State Index assigns all 50 states and the District of Columbia a score of up to 100 and provides concrete steps that states can take to protect the safety, development, health, and dignity of youth experiencing homelessness.
● Helping secure $167.5 million in new annual funding from Congress for the Federal Government to invest in 46 communities across the country. This money is part of the game-changing Youth Homelessness Demonstration Project – an initiative designed to reduce the number of youth experiencing homelessness in the United States.
● Training over 1700 staff members during the past year from youth homelessness service providers across the country on LGBTQ inclusion and sent its free True Inclusion Toolboxes to over 500 service providers across the U.S.
● Hosting the fourth annual #TrueColorsDay, a national day to raise awareness about LGBTQ youth homelessness, which has reached hundreds of millions online in the past four years.
● Facilitating the National Youth Forum on Homelessness, a youth-led project focused on ending youth homelessness in America, as members work alongside federal partners to provide technical assistance to communities working to end youth homelessness.
● Holding the fifth annual Impact Summit, the only national annual gathering focused on innovative solutions to end LGBTQ youth homelessness in America.
This summer, Variety also celebrated the organization's continued humanitarian advancements in their annual Philanthropy in Entertainment issue:
https://variety.com/gallery/philanthropic-organizations-backed-by-star-power/
Co-founded by Cyndi Lauper, the
True Colors Fund
works nationally to end homelessness among lesbian, gay, bisexual, transgender, queer, and questioning youth. Through a broad continuum of training & education, youth collaboration, and advocacy programs, the True Colors Fund is creating a world where all young people can be their true selves.
###