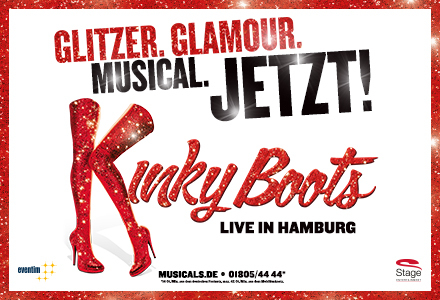 Kinky Boots Opening in Hamburg Germany
Hamburg – Hamburg gets a high-heeled musical hit: KINKY BOOTS – The Broadway musical celebrates its German premiere on December, 3rd 2017 at the Stage Operettenhaus.
Cyndi Lauper is excited about the German premiere in the musical metropolis: "Audiences can look forward to an enchanting musical. In one of the songs it goes 'Just be who you wanna be'. I think it's the perfect motto for a great night out on the Reeperbahn. KINKY BOOTS and Hamburg, they just go together!"
KINKY BOOTS is about Charlie Price, who inherits a run-down shoe factory from his father in the English
Uschi Neuss, Director of Stage Entertainment "When I saw KINKY BOOTS for the first time, I realized two things straight away: First of all: This musical is part of the current top league of the Broadway shows and has an absolutely high-quality. And second: For the premiere in Germany, it couldn't fit better in any theatre than the Stage Operettenhaus in Hamburg."
The principal roles in Hamburg's high-heeled hit musical are filled by Gino Emnes and Dominik Hees. Gino Emnes (41) will don the kinky boots as "Lola" and Dominik Hees (28) will take on the role of "Charlie". These two are no strangers to the Hanseatic City; they have both previously performed on stage here in major musicals. Gino Emnes played "Simba" in Disney's THE LION KING, "Eddie" in SISTER ACT and "Apollo Creed" in ROCKY and Dominik Hees is known to the Hamburg audience as "Helmut Rahn" from THE MIRACLE OF BERN.
"Ah, I'm looking forward to my transformation into Lola!" said Gino Emnes. "So far, the musical audience has only really seen me as a 'tough guy', and now I get to show my softer side; I can hardly wait. After the hard boxing training for ROCKY, I'm now eagerly exploring an entirely new terrain: walking on high heels and the glitzy lifestyle of a drag queen! It's going to be great fun!"
Dominik Hees, who is known to the Hamburg audience as "Helmut Rahn" from THE MIRACLE OF BERN, is very much looking forward to his new run in the Hanseatic City. "The entire musical is a spectacle, and the music in particular is a real thrill," raved Hees. "Cyndi Lauper composed new songs specifically for this musical. There's everything in there: moving ballads, modern rock/pop numbers and her characteristic crazy 80s sound. KINKY BOOTS is a genuine feel-good musical which leaves the audience with a big smile on its face."
Kinky Boots has been running since March 2013 on New York Broadway and since August 2015 in the London West End, it is also played in Korea (where it won Best Musical), Toronto (where it won Best Musical), Japan and Australia. At the Tony Awards ceremony in 2013 it won six awards, amongst others, for 'Best Musical'. The London production was also honoured several times at the Laurence Olivier Awards for, amongst others, 'Best New Musical'.
KINKY BOOTS – FROM DECEMBER 2017 on at the Reeperbahn!
Tickets & Information on 01805 - 44 44+ or www.musicals.de *