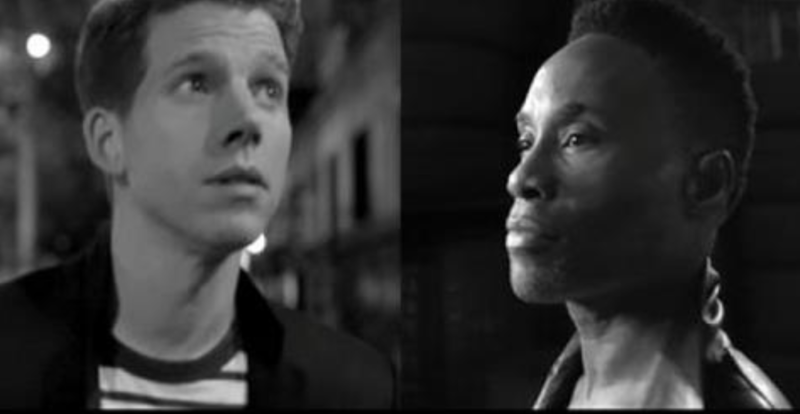 Cyndi drops touching and emotional video for "Not My Father's Son"
EMOTIONAL SONG FROM HER HIT BROADWAY MUSICAL KINKY BOOTS RE-IMAGINED AND RELEASED AS NEW SINGLE
The music video, which Lauper conceived and directed herself, gives visual to one of the most important songs from the hit show Kinky Boots – telling the story of two very different people from wildly different backgrounds who find common ground through their shared trauma. Exploring the pressure of growing up with a parent's very narrow expectations, the song celebrates finding peace in your own skin. The video, shot in stark black and white on New York City streets, only leaps into color as the two men, who are on a physical as well as metaphorical journey, are reunited in their safe space.
"Now felt like the right time to do this," Lauper explained. "I wanted to tell the story of two totally different men, from different walks of life, that come together to realize that it's our differences that should bring us together. That's inspiring. And I think we could all use some of that these days… It's also a great way to welcome Billy and Stark back to Broadway!"
The video, which includes a special appearance by Lauper herself on guitar, stars Tony Award winner Billy Porter (whose recent studio album: Billy Porter Presents The Soul of Richard Rodgers debuted at #2 on the iTunes R&B charts) and Tony Award nominee Stark Sands (who appears alongside Meryl Streep and Tom Hanks in Spielberg's upcoming The Papers) who both returned to Kinky Boots, reprising the lead roles they created as Lola and Charlie, respectively. They returned to the show on September 26, 2017 and will perform for a limited 15-week engagement through January 7, 2018. For more details on Kinky Boots please check out: www.kinkybootsthemusical.com